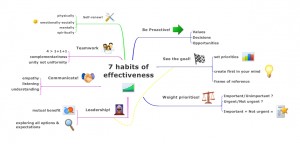 Ministerstwa Uczące Się or MUS is the name of a new project in Poland that translates in English to Learning Ministries. 16 leaders within various ministries in Poland were hand-selected to become change agents within their organizations. The 2-day Idea Mapping Workshop was their first training session together and kicked-off their learning on Oct 29-30, 2012. Joining them were the MUS team members led by Dr. Karol Olejniczak.
During these two days there is a heavy emphasis on teaching Mindjet (a mind mapping and idea mapping software program) to these leaders. The intention is that this tool will be used both in future trainings, but it will also become a standard tool that will help individuals and organizations to be more productive, organized, creative, strategic and in general to be able to visually gather around large amounts of complex data in one viewable space or single piece of paper. Once ideas/data is in an idea map electronically it can be shared in its entirety or just a high-level view depending on the audience.
One of the activities I created was intended to help them practice developing large idea maps as a team. I had each person create an individual map of a 2-page overview of Stephen Covey's 7 Habits of Highly Effective People and then in groups of 3 or 4 they merged their individual maps into one. Here are the second two of those examples. If you would like the original MindManager files, just email me and I will send them to you:) The first two examples can be seen on my Nov. 19, 2012 posting.
Bookmark us!
Copy HTML:
If you like this then please subscribe to the
RSS Feed
.