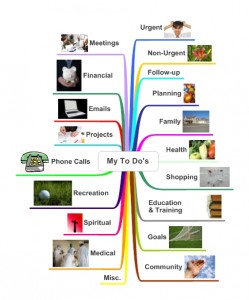 This Idea Map is my template for creating my "To Do" list in a mind mapping format. I used Mindjet's MindManager and added images to enhance my recall.
When my mind gets overwhelmed with everything I need to get done I find it very helpful to dump my brain into this map. As new "To Do's" surface I add them to the map. As I complete tasks or when they are no longer necessary I remove them from the map.
I don't always have something going on in every category and occasionally need to add a branch — even if it's just temporary until that item is finished.
If anyone would like a copy of the original MindManager format, don't hesitate to send me an email.
Bookmark us!
Copy HTML:
If you like this then please subscribe to the
RSS Feed
.