20Jul2015
Filed under:
Idea Mapping Example
Author: Jamie Nast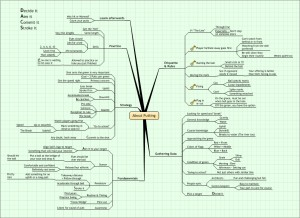 In October of 2007 I posted a fantastic idea map from Paul Shorock titled "About Golf." While sharing this map with two classes at Boeing last week, I realized that I never posted the second one Paul gave me specifically on putting.
At the time these were created Paul's purpose was to explain golf's rules and etiquette while introducing his new son-in-law to the game.
Both of these idea maps were created using MindManager. Happy putting to all you golfers.
Bookmark us!
Copy HTML:
If you like this then please subscribe to the
RSS Feed
.