20May2016
Filed under:
Idea Mapping Example
,
Idea Mapping Workshops
Author: Jamie Nast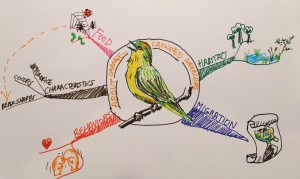 Barb Chan attended one of my 2-day Idea Mapping Workshops at Boeing last month. This was one of the idea maps she created during class. It is about the Orange-Crowned Warbler's habitats, migration, behaviors, characteristic, and foods.
On the Behaviors branch you'll see Barb drew a pair of boxing gloves. This represents how the bird defends its territory when it sees an intruder.
Another clever example of using idea mapping! Thanks for sharing Barb.
Bookmark us!
Copy HTML:
If you like this then please subscribe to the
RSS Feed
.