17Aug2016
Filed under:
Idea Mapping Workshops
Author: Jamie Nast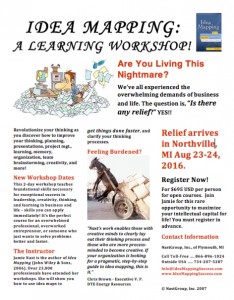 In my June 21, 2016 posting I stated that next week's Idea Mapping Workshop would be held in Livonia. A few weeks ago I changed the venue to Northville Square in Northville, MI just a few doors down from my husbands office – NastGroup Financial. We have a great group of people joining in on the fun. If you are still considering attending the workshop it is August 23-24 from 9:00 – 5:30pm both days. You must register in advance. Here is a link to the course abstract.
Looking forward to seeing everyone!
Bookmark us!
Copy HTML:
If you like this then please subscribe to the
RSS Feed
.