11Jul2007
Filed under:
Vanda North
Author: Jamie Nast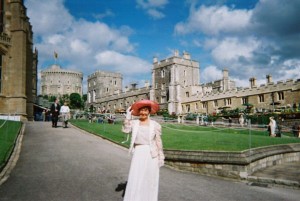 To celebrate my 150th blog posting, I bring you an update from my dear friend and colleague Vanda North. Vanda has launched The LearningConsortium — a web portal to promote all the BEST processes, products and people to assist you to become the Best YOU Can Be.
Vanda has a suite of seminars, delivered in 'Brain Bytes' (sessions 45 minutes long) all
focusing on The Art of SELF Leadership. This covers a range of topics from 'Powerful
Presentations' to 'Navigating Change' and 'Happiness & Wellness' (Six brain bytes makes a day!)
This year Vanda has been creating with Richard Israel (Author of the Brain Sell
series) an e-product and seminar called BrainChi – how to build & maintain the energy of your brain. She is also creating an e-product and party game with the columist Tony Leggett, called The Questions that Mark Your Life. It contains 101 questions that can be used for self reflection, or in groups as fun conversational stimulants!
Finally, she has worked with Aulden Dunipace, Lex McKey, and Michael Spencer creating an
e-course called Top Tips for Tiny Tots looking at all the important areas to develop in a child.
Since climbing Mt Kilimanjaro last summer, Vanda has scaled the heights of the iron work
over the top of the Sidney Bridge in Australia, hiked into the outback in the Warrenbungles, passed through the Panama Canal on a two week 'working' cruise, and climbed down & up the Grand Canyon.
Vanda's Mum is now 93 1/2! and is in the UK, still putting her head in the oven and making
the world famous 'mummy goodies'. It is looking as though it will be summer in England for Vanda, so do let her know if you are heading that way! She deeply appreciates all of you who
keep in touch.
The attached photo is from Vanda's recent visit with the Queen at Windsor Castle — only Vanda.
Bookmark us!
Copy HTML:
If you like this then please subscribe to the
RSS Feed
.