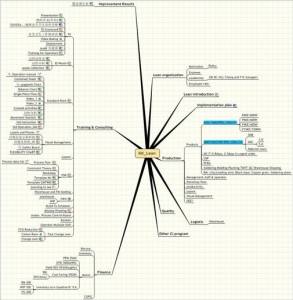 This idea map was created by Ji Hong, who is a Certified Master Black Belt and expert in the Six Sigma /Lean area, a Senior Consultant, and Senior Engineer in China. He was previously the Six Sigma Director for ASIMCO (a US automotive parts manufacturer with 18 factories in the US and China) and is now running his own company.
I met Ji Hong at little over a year ago through a neighbor who was a VP at ASIMCO. For years this neighbor kept asking me about my profession. On one of his many trips to China, he read my Idea Mapping book. A few days later he was in a meeting. It was Ji Hong's turn to present information regarding their Six Sigma initiative — and he started out by presenting a map created in Mindjet software. My neighbor nearly fell off his chair. Without belaboring the story further, Ji Hong and I have been touch ever since. This unlikely meeting is documented in the November 23, 2006 posting. His wife even contributed a map for the November 7, 2007 posting.
In August 2007, Ji Hong was hired by KK – a semiconductor company in China — to conduct a lean manufacturing project. Since this company had no background on Lean, he had to design an entire plan for them. To do this he created a map which shows the order of lean activities, Lean Orginazation–Lean Introduction–Implement Plan–Training and Consulting–Improvement Result. In the main branch of "Training" he linked training materials and application worksheets to make it easy to open or close the files while conducting the training or the consulting. Ji Hong says that this lean project is running very well and will be finished in January or February of 2008 – and of course Idea Mapping gave him a big advantage. If you want to contact Ji Hong, he can be reached at +86–13013788481 or jihong2008mail@gmail.com. I want to thank Ji Hong for his excellent contribution.
For the pdf version of this map go to my website. If you click on any column it will sort alphabetically and you can then search by author or map title, etc.
See Ji Hong's map of the Six Sigma Implementation he did at ASIMCO and many others. Hit "Show All Records" and scroll down to "Six Sigma Implementation".

Today this map is featured in my contribution to the Mindjet Newsletter. If you would like to subscribe to the Mindjet Monthly Newsletter click here.

Bookmark us!
Copy HTML:
If you like this then please subscribe to the
RSS Feed
.