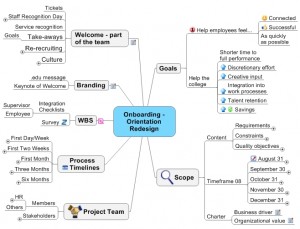 Frank Medlar's December 16, 2008 idea mapping example was the most popular 2008 posting since I start the new version of this blog in September 2008. Today I'm sharing another one of Frank's maps that was also featured in the December 2008 Mindjet Newsletter.
Frank Medlar is the Director of Workplace Learning and Career Development at a Boston-area college. I met him personally when he attended my Idea Mapping Workshop in August of this year. He is also in the process of becoming a Certified Idea Mapping Instructor (CIMI). Below is the description of this idea map.
"This map helped me plan a new hires orientation redesign effort. The redesign will help us shorten the time it takes for staff to perform at their fullest, increase employee retention, and save both time and money (among many benefits). It's got all the elements of the strategic plan and purpose together on one page. It lets me track progress on key components and focus on what still needs to be done. Before mapping this out, I struggled with bringing all the elements of the redesign into a coherent whole and moving them forward in concert. With the map, I feel much more confident about the plan. I am making steady progress, and I always have a dashboard to show my boss how the project is going."
This is a collapsed version of this map. Double click on the idea map for a clear view of this jpg file. If you would like to have a clear pdf version click here or if you would like a copy of the full map, you can request a copy from me at info(at)ideamappingsuccess(dot)com or email Frank at info(at)strengthspath(dot)org.
This map was featured in my December 2008 column of the Mindjet Monthly Newsletter.
Bookmark us!
Copy HTML:
If you like this then please subscribe to the
RSS Feed
.