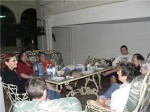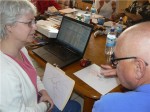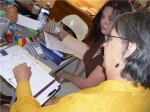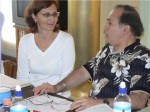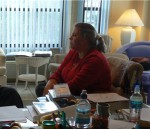 Two weeks ago 12 of us gathered for an Idea Mapping Workshop in Palm Beach, Florida. For some Certified Idea Mapping Instructors (Larisa Brigevich, Joe Kovach, Kaizad Irani, Liza Seiner and Dave Gunby) it was a time of review and re-connection. For others it was a whole new experience. For all it was a great time of fun and learning. We started our time together in the tradition of gathering the Sunday night before class for introductions for the new participants and a time of catching up for the rest of us. Even Vanda North (who happened to be in town) was able to join us. It makes going into the workshop the following day that much more enjoyable.
The next four photos show some of the sharing of idea maps that occurs during each of the idea mapping activities. This enables participants to see how uniquely they each capture different and similar information using this tool — therefore stretching their learning. I'll follow-up with more photos in future postings.
It was truly an amazing time. Richard Israel popped up from Miami on December 9th. If you want to join in on the fun, their are several public Idea Mapping Workshops scheduled for 2010.
Remember: If you are a project manager and have either considered taking the PMP exam, are in the process of studying for it, have passed the exam, or gave up on the whole process — this is your chance to share your experience in this survey which takes less than 10 minutes. As a "thank you" please enter the drawing for free Amazon gift cards or an autographed copy of Idea Mapping by Jamie Nast. Full story here.
Bookmark us!
Copy HTML:
If you like this then please subscribe to the
RSS Feed
.