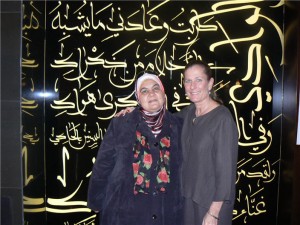 Today was the final day for the second Idea Mapping Workshop held in Amman, Jordan in 2010. The first one was held in February 2010. I'll share photos over the next month or so, but I had to share two surprises from today's event. Safa Hijazeen, Director of Forward Training and Consulting LLC presented me with a thank you card from the participants at the end of the workshop. The inside of the card was an Idea Map that they had all signed (see above). Certainly a fond memory I will keep! This becomes Idea Mapping Example #234.
The other surprise of the day happened even before class started. Mervat Salman from ETQ (who attended the February Idea Mapping Workshop in Jordan) surprised us by stopping by to say hello. Mervat shared one of her first Idea Mapping applications in the March 3, 2010 posting on this blog. Today she stayed long enough to share some of her experiences both in the workshop as well as her success in implementing her learning afterwords.
Registration is now open for the next Idea Mapping Workshop in Amman, Jordan which will be held October 10-11, 2010.  Contact Forward Training if you have any questions.
Bookmark us!
Copy HTML:
If you like this then please subscribe to the
RSS Feed
.