12Jun2010
Filed under:
Idea Mapping Workshops
,
mind mapping workshops
Author: Jamie Nast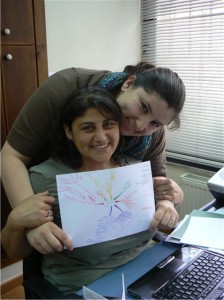 I am so proud of this most recent group of Idea Mappers from Jordan, so I will occasionally be sharing photos from this workshop. The top picture is from an activity where participants create an idea map of a chapter from a book of their choice. Left to right is Hussam Shadid, Lamia Asmar, Nadia Ayesh-Rajab, Nisreen Abu Salim, Jumana Zoghmout and Tawfiq Al Farkh. Five out of these six work for Zain, one of the largest and most innovative cell phone companies in the world.
In the bottom photo are Tala Qarrain (standing) and Rana El Far. I visited their office the day after the workshop and they showed me how they were using their new Idea Mapping skills for their job! More postings from this workshop are from May 10 and May 27.
This workshop was sponsored by Safa Hijazeen and his Forward Training team. If you want to see a fabulous 3-minute YouTube video featuring the first class in Jordan, click here and then play the video in the lower left part of the screen.
Registration is now open for the next Idea Mapping Workshop in Amman, Jordan which will be held October 10-11, 2010.  Contact Forward Training if you have any questions.
Bookmark us!
Copy HTML:
If you like this then please subscribe to the
RSS Feed
.