9Jan2012
Filed under:
Books
Author: Jamie Nast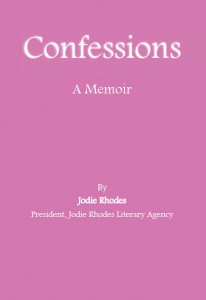 Jodie Rhodes is my literary agent and the person to whom I give credit for getting my Idea Mapping book published by a major publisher — John Wiley & Sons. I was introduced to Jodie by my good friend Scott Hagwood who is a 4-time USA Memory Champion, the 1st Grand Master of Memory in the USA and also one of Jodie's authors who wrote a book titled Memory Power.
Jodie's first novel was American Beauties followed by Winners and Losers which made the LA Times bestseller list its first week in print. Her recent book Confessions was just published in the fall of 2011. I finally had a chance to read it and couldn't put it down. This memoir is not her story about becoming a literary agent. In fact, you won't come across that until the end of the book.  As Jodie states, "Instead, you will read the story of a person who lived a life that could only be written as a confession." See the back cover of the book where 10 New York editors praised her work.
A unique attribute of this book (not surprising considering it is Jodie after all) is that all money generated by the sales of this memoir will be donated to The Jodie Rhodes Literary Book Awards. Winners of the award will have their books featured on both Barnes & Noble and Amazon, and distributed by Ingram and Baker & Taylor to bookstores all over the country. You will find submission guidelines in the last chapter of her book.
Jodie had a decorated track record in writing and marketing prior to be coming a literary agent unlike any other. You can read more about her professional history on her website, but this book gives you a peek into the unshared side of a woman with impeccable honesty and someone who never gives up…NEVER!
Bookmark us!
Copy HTML:
If you like this then please subscribe to the
RSS Feed
.