13Feb2012
Filed under:
Books
Author: Jamie Nast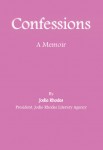 On January 9, 2012 I wrote a posting about a new book written by my literary agent — Jodie Rhodes.
Jodie now has a new website for this book at jodierhodesconfessions.com. A unique attribute of this book is that all money generated by the sales of this memoir will be donated to The Jodie Rhodes Literary Book Awards. Winners of the award will have their books featured on both Barnes & Noble and Amazon, and distributed by Ingram and Baker & Taylor to bookstores all over the country. You will find submission guidelines in the last chapter of her book.
Confessions was just published in the fall of 2011. This memoir is not her story about becoming a literary agent. In fact, you won't come across that until the end of the book.  As Jodie states, "Instead, you will read the story of a person who lived a life that could only be written as a confession."
Kirkus Review
"Well known literary agent Jodie Rhodes' eye-opening memoir combines the personal and professional. She grew up in an era when women succeeded in marriage, not business. But her parents' toxic relationship, a family legacy of divorce, plus her burning desire to write, all sent Rhodes the other way. Precocious, tenacious and pretty, she charged into the world of 1960s advertising at the age of 20 and fairly conquered it. Rhodes was catnip for men and left a trail of broken hearts and defeated suitors. She moved on and up like a cyclone, becoming a media buyer and creative director in San Francisco and later promoted to VP Media Director of N.W Ayer in Los Angeles but smarts and drive couldn't save her from personal tragedies. A business primer with detailed strategies of winning marketing gambits, and a romance memoir with all the confessions readers savor, with narrative high points."
Bookmark us!
Copy HTML:
If you like this then please subscribe to the
RSS Feed
.